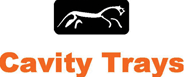 Cavity Trays
Cavity Trays Limited is currently the only tray manufacturer awarded European Technical Approval and is the longest-established specialist in its field. Cavity Trays, based in Yeovil, supplies products accompanied with performance-liability protection for the benefit of architects, builders and c
Cavity Trays Limited is currently the only tray manufacturer awarded European Technical Approval and is the longest-established specialist in its field. Cavity Trays, based in Yeovil, supplies products accompanied with performance-liability protection for the benefit of architects, builders and clients, and is responsible for introducing the term cavity trays into the building language.
The range of trays manufactured by Cavity Trays addresses protective measures appertaining to the cavity wall from ground level to roof level. In addition to this range, the company manufactures preformed cavity closers that are multifunctional, embracing reveal closing, damp protection, thermal enhancement, acoustic suppression and fire-spread control measures.
Cavity Trays offers every company, regardless of size, an opportunity to secure a bespoke service and facility. Accurate scheduling of cavity trays and other products, a quick ordering process, technical advice and deliveries to an agreed schedule are its principal objectives.
Branch details
Ireland (Metal Processors) (00) 353 1 457 3240
Trade Names
Advantage, Archfast, Bitutecton, Cavi, Cavibrick, Cavicloaks, Caviclosers, Cavilintel, Caviroll, Cavisleeve, Cavitray, Cavivent, Caviweep, Euroweep-Vent, Inskorfoam, Level Threshold, One-Way, Pyramidweep, Quickcloser, Siliconbond, Sitesealer, Type C, Type G, Type K, Type L, Type U, Type X
Categories Listed Under
Air bricks and cavity ventilation
Air bricks and cavity ventilation, aluminium
Air bricks and cavity ventilation, galvanised
Air bricks and cavity ventilation, plastic
Air bricks and cavity ventilation, steel
Arch lintels
Breather vapour barriers
Buried cable access systems
Cable ducts/trunking
Cast-in channels
Cavity barriers
Cavity closers
Cavity fixings
Cavity trays
Cavity ventilation
Chimney flashing systems
Combined flashing/soil pipe terminal
Copings and cappings
Copings and cappings, aluminium
Copings and cappings, fibre-reinforced cement
Copings and cappings, plastic
Copings and cappings, stainless steel
Copings and cappings, steel
Damp-proof coatings
Damp-proof courses
Damp-proof courses, bituminous
Damp-proof courses, metal
Damp-proof courses, plastic
Damp-proof courses, remedial
Damp-proof courses, slate
Damp-proof membranes
Damp-proof membranes, bituminous
Damp-proof membranes, plastic
Damp-proof sheets
Door threshold strips
Dry verge/ridge/eaves systems
Ductwork access doors/covers
Ductwork accessories
Eaves fillers/closers
Fire dampers
Fire penetration seals
Fire protection, beam/column casings
Fire stops
Fire-protection components
Fixings and fasteners
Flashings
Flashings, aluminium
Flashings, bitumen/aluminium
Flashings, bituminous
Flashings, copper
Flashings, lead
Flashings, plastic
Flashings, preformed shapes
Flashings, self-adhesive
Flashings, stainless steel
Flashings, steel
Flashings, zinc
Flashings, zinc/lead
Floor ducts
Folded-plate roofs
Folded-plate roofs, plastic
Folded-plate roofs, timber
Formwork and shuttering
Fully-supported sheet roofing
Intumescent door seals
Joint sealants
Jointing compounds
Joist end caps
Lintels
Lintels, steel
Loft access doors/panels
Malleable metals
Malleable metals, aluminium
Malleable metals, copper
Malleable metals, lead
Malleable metals, zinc
Malleable sheet roofing
Metal protective coatings
Metal sheets
Metal sheets, aluminium
Metal sheets, galvanised
Metal sheets, stainless steel
Metal sheets, steel
Metal sheets, zinc
Opening window shutters
Paints
Paints, damp proofing
Paints, flame/fire retardant
Paints, heat resistance
Paints, vapour permeable
Permanent Formwork and shuttering
Pipe casings/enclosures
Pipe protection
Primers/primer-fillers
Profiled roof cladding sheets
Proprietary fasteners
Protective coatings
Protective coatings, anti-condensation
Protective coatings, anti-corrosion
Protective coatings, bitumen/asphalt
Protective coatings, brickwork/blockwork
Protective coatings, concrete/cement
Protective coatings, damp proofing
Protective coatings, insulating
Protective coatings, masonry
Protective coatings, waterproof
Radon ventilators
Roof and balcony outlets
Roof and balcony outlets, plastic
Roof cladding
Roof cladding, acrylic
Roof cladding, PVC-U
Roof cladding, stove enamelled
Roof cladding, translucent
Roof edge trims
Roof panels
Roof panels, lead
Roof screed ventilators
Roof screeds
Roof soffit boards
Roof trims
Roof void ventilators
Sections
Sections, aluminium
Sections, brass
Sections, bronze
Sections, copper
Sections, extruded
Sections, lead
Sections, moulded
Sections, plastic
Sections, rolled
Sections, rubber
Sections, stainless steel
Sections, steel
Sills
Sills, metal
Sills, plastic
Structural fire protection
Tanking
Tanking coatings
Tanking sheets
Tanking, bitumen/polymer
Tanking, bitumen/rubber
Tanking, bituminous
Tanking, butyl rubber
Underfloor trunking
Underground gas membranes/barriers
Underground gases protection
Valley gutters
Vapour barriers
Vapour barriers
Vapour barriers, pitch polymer
Vapour barriers, plastic
Wall plugs
Water stops
Water stops, composite materials
Water stops, copper
Water stops, plastic
Water stops, steel
Water-supply pipe casings
Water-supply pipe protection
Weatherproofing and draughtproofing
Window shutters
Window shutters, aluminium
Window shutters, rolling/coiling
Window shutters, steel
Window shutters, within lintel