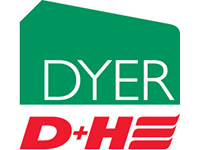 Dyer Environmental Controls
Since 1991 Dyer have specialised in natural and smoke ventilation. We have been providing bespoke solutions to exciting new construction projects and refurbishments throughout the construction and glazing industry.

The company believe the comfort and safety of people in buildings is paramount, and their passive ventilation innovations deliver on every front. Dyer will find the right solution, whether it be a full control system or an individual product.

Their expertise in direct supply, installation and commissioning, service and planned preventative maintenance provides an all-round service.