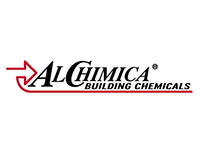 Alchimica Building Chemicals Ltd
ALCHIMICA BUILDING CHEMICALS are a dynamic company specialising in the development and production of specialty polyurethane materials for construction and industrial applications.

Their liquid polyurethane systems have a proven track record of high performance in numerous prestigious construction contracts around the world. In addition, ALCHIMICA's industrial spray coatings are trusted as industrial waterproofing and insulating solutions.

ALCHIMICA™ also offers a complete range of cementitious mortars, MS (Modified Silane) based adhesives and sealants as well as specialty one and two-component bitumen extended polyurethane systems.