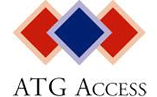 ATG Access
ATG Access is a manufacturer of security bollards and vehicle barrier systems, currently exporting to over 40 countries.

Innovative products and cutting edge engineering is ATG Access's passion and the company has become a market leader in a variety of different technologies. This is a result of an extensive research and development programme which the company takes great pride in.

The company has leading manufacturing equipment such as their own panel shop allowing bespoke control systems to suit customer needs. ATG Access has become a global brand offering a wide variety of access control products and solutions.