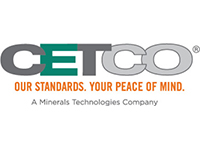 CETCO®
Backed by the resources of one of the world's largest mineral companies, CETCO® features a wide variety of active and passive waterproofing membrane technologies for use in protecting the building envelope above and below ground.

Their diverse product offering and total system approach are designed to accommodate the varied conditions encountered during construction, ensuring your waterproofing system performs properly in the unique conditions of your project.

With more than 50 years of waterproofing technology experience, CETCO® is known worldwide for quality, performance and reliability.