Flooring Solutions
At PPG, we have developed a range of flooring systems designed to meet a wide variety of applications, from heavy-duty industrial environments, to light-duty commercial areas. With an extensive product portfolio from impregnating primers and damp proof membranes, to high build epoxy products and polyurethane finishes. We're confident you'll find a system that works for you.

In the UK, we are a manufacturing member of the Resin Flooring Association (FeRFA). FeRFA works with its members to support them in meeting the exacting standards required within the UK resin flooring industry. You can be rest assured that our flooring solutions will offer seamless finishes that provide exceptional protection.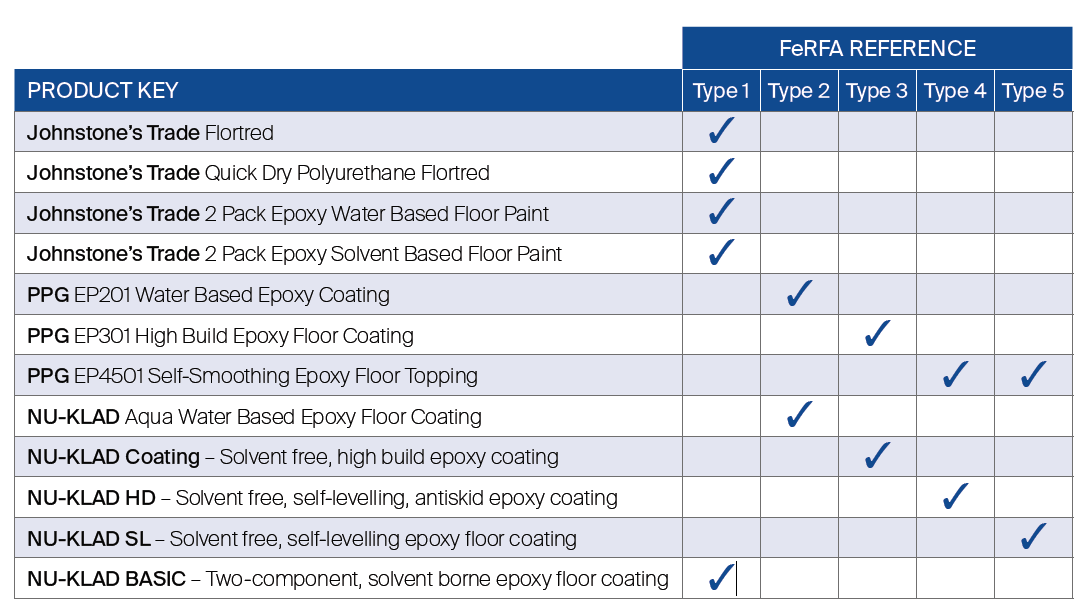 PPG EP001 Epoxy DPM Floor Primer
A two-component solvent-free liquid applied surface DPM and residual moisture suppressant. Developed specifically for use as a primer over cementitious surfaces that contain high levels of residual construction moisture.

PPG EP002 Epoxy Impregnating Floor Primer
A two-component solvent-free impregnating epoxy primer, which penetrates in to prepared concentrate substrates to provide a suitable key for PPG Flooring products.

PPG EP201 Water Based Epoxy | FeRFA Type 2
A semi-gloss, two-component water dispersed epoxy coating, designed to provide a tough, hard-wearing protective floor finish in a range of colours. The easy to clean finish is ideal for application in garages, light industrial units, warehouse floors and other areas subject to pedestrian and light vehicular traffic.

PPG EP301 High Build Epoxy Floor Coating | FeRFA Type 3
A glossy, two-component solvent free epoxy floor coating, is a tough and durable coating with excellent chemical resistance, ideal for use in areas such as warehouses, factories, workshops, showrooms and packaging and storage areas.

PPG EP4501 Self-Smoothing Epoxy Floor Topping | FeRFA Type 4 and 5
A medium-duty flow-applied epoxy floor topping, offering excellent levels of durability, impact, abrasion and chemical resistance leaving a smooth, glossy and easy to clean finish. PPG EP4501is a very versatile product that can be used in a variety of different industries in a wide range of flooring solutions.

NU-KLAD Coatings
PPG can also provide coatings for nuclear environments and power stations. Speak to a member of our team to understand the solutions we offer within our Nu-Klad range.