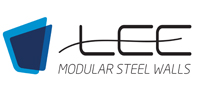 Troax Lee Manufacturing
Industrial wall and partitioning manufacturer Lee Manufacturing, part of the Troax Group, was launched to become more recognisable in mainland Europe and international markets, aiding its continiuing overseas expansion.

The brand names of Lee's modular steel walls have changed as follows:
• Toledo two-line cleanroom partitioning has been renamed as Titan.
• Excalibur double skin partitioning is now known as Elan.
• Sabre single skin partitioning has become Sigma.
• Broadsword industrial single skin partitioning is now known as Bastion.