Following a recent advice note on balconies on residential buildings from the Ministry of Housing we have seen an increase in queries and enquiries from housing associations, developers, architects and contractors seeking clarification on what fire rating their deck boards need to achieve to meet the current building regulations. In this blog we will explore what prompted the recent advice note, the changes made to the building regulations last year following the Hackett review and what fire rated products Gripsure offer.

What prompted the recent advice note?

A major fire at a six floor residential building occurred last month in Barking. Fortunately, there was no loss of life. Initial investigations have found that the balconies were poorly designed with no flame retardant treatment used on the softwood timber, the use of multiple small section timbers for decorative purposes around the balconies which inadvertently interlinked the floor levels and neighbouring balconies together and no measure was put in place to control air movement such as the use of soffits. In the opinion of the Timber Trade Federation (TTF) and the Wood Protection Association (WPA), putting all these factors together created an unnecessary fire risk. Their response to the incident can be found on the following link - TTF & WPA response to Barking fire.

What are the different fire classifications of products?

BS EN 13501-1 is the European standard for reaction to fire performance of construction products. Independent testing to classify the products against the construction product classification within BS EN 13501-1 include the single flame source test (BS EN 11925-2) and the single burning item (SBI) test (EN 1382). If products pass these two tests, they are then tested further against the non-combustibility test (EN ISO 1182) and gross heat of combustion test (EN ISO 1716).

After testing, products are classified into seven different classifications which include A1 and A2 (Non-combustible and Very Limited combustibility) which are the highest classes. The classifications then run from Euroclass B to Euroclass F for combustible materials with there being great differences between each classification. Timber without any fire retardant added will achieve a minimum of a Euroclass D but can be enhanced with fire retardant treatment or by choosing certain species to achieve Euroclass B or C.

In addition to the A1 to F classifications there are also two additional classifications for classes A2 to D which look at two other fire safety critical factors. These classifications look at smoke production rated from S1 to S3 and the development of burning droplets and/or particles from D0 to D2.

Smoke Development
S1 - very limited amount of combustion gases
S2 - limited amount of combustion gases
S3 - no requirement for development of combustion gases

Burning Droplets
D0 - no burning droplets or particles emitted
D1 - limited quantities of burning droplets or particles emitted
D2 - no requirement for development of burning droplets or particles

It is also worth noting, that as the majority of composite deck boards are imported into the UK, these products sometimes market themselves as being Class A fire rated against the American ASTM standard which is also used in other areas of the world outside of Europe. Do make sure that if considering these products that their fire ratings comply with BS EN 13501-1 which is the European standard. This standard is much more stringent than the American ASTM Standard so the ratings cannot be compared like for like. For example, we tested our cumaru deck boards (a tropical hardwood) which achieved a class A rating against the ASTM standard but only achieved a Euroclass C rating against the European standard.

What are the current building regulations?

Following the Grenfell Tower tragedy the government commissioned the Hackett review. The report was an independent review of the building regulations and fire safety and set out over 50 recommendations. The full report or summary can be found here. The report found there was ignorance, indifference, lack of clarity on roles and responsibilities and inadequate regulatory oversight and enforcement tools.

On the back of the report, an impact assessment was presented to parliament in November 2018 reviewing two options - a do nothing option where the existing building regulations would remain (products with any fire classification could be used on balconies regardless of building height) or a second option which proposed the ban of all but non-combustible products (A minimum of a Euroclass A2-S1, D0 rating) on residential buildings over 18 metres to allow people enough time in high rise buildings to escape in the event of a fire. The government voted to approve the proposed ban and an amendment to the regulations came into force on the 21st of December 2018 which can be found on this link - Most recent amendment to the building regulations.

The amendment only effects high rise buildings over 18 metres and at present only aluminium decking systems can meet the A2 classification. For buildings under 18 metres the former regulations can still be applied where deck boards without a fire rating can be used. Even so, we are seeing all parties within our industry increasingly request a minimum of a Euroclass B to ensure even these type of projects have a fire rated product (the highest a timber or composite product can achieve).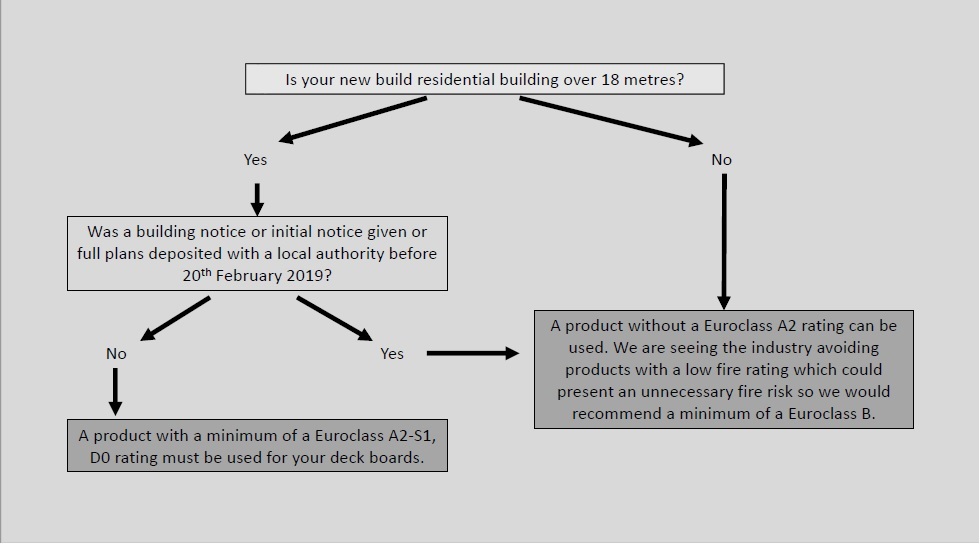 Better design and higher classifications essential to improve resident safety

Deck boards used on balconies on high rise residential projects didn't previously require any form of fire rating as it was argued that a balcony was an external fixing to the building. Fires however, can be started on balconies, most commonly because of arson, not disposing of cigarettes properly and the use of barbeques.

Poorly designed balconies can have uncontrolled air flow which will fuel flames in the event of a fire with oxygen, timber/composite products with a low fire rating (Euroclass D or below) and decorative small section timbers used for balustrading and cladding of vertical uprights which interlink balconies together can create an unnecessary fire risk.

Inset concrete and bolt on balconies designed to be independent of one another, the use of soffits underneath balconies to prevent air flow, no or minimal use of small size sectional timber around the balcony and a higher rated deck board to Euroclass B would react very differently in the event of a fire to a balcony which wasn't well thought out.

What products do Gripsure offer for residential balconies?

For applications which have a requirement for a deck board with a Euroclass B fire rating against BS EN 13501 we would recommend our Bamboo range which meets this rating without the need for external fire treatment. Combined with the highest fire rating a timber or composite product can achieve, the range also boasts class one durability against BS EN 350-2 with an expected service life of over 35 years. The boards have virtual no dimensional movement and are supplied with side grooves so a secret fix deck clip system can be used and a T&G system on the end of the boards creates seamless lengths.

Moso bamboo also has the best environmental credentials on the market. Moso Bamboo is the fastest growing plant in the world and can be harvested in just 4-5 years. In well managed forests around 20% of the poles are harvested each year from the mother plant which makes way for younger shoots to flourish. When compared to traditional timbers a much greater yield can be achieved in the same area of forest over a set period which also means more carbon is stored and taken out of the atmosphere. The product does not contain polyurethane (a plastic) which is prevalent in composite deck boards. Although the polyurethane may come from recycled sources, the plastic will last for hundreds of years after the useful service life of the deck board. The whole life cycle of a product needs to be considered with research at design stage becoming increasingly common. Further information on our bamboo range can be found on our bamboo product page.

Gripsure's range of softwood timbers can be externally fire treated by a ISO9001 accredited specialist fire treatment company to improve the fire rating of the product from Euroclass D to either Euroclass B or C. The timbers which can be upgraded include our redwood, thermowood Ash and Accoya deck boards. As hardwoods are so dense, they cannot be externally fire treated as the treatment will not penetrate the timber. We have independently tested our Cumaru deck boards and this product achieved a Euroclass C rating.

In July 2020 Gripsure partnered with SHERA to supply non-combustible fibre cement decking, ideal for balconies and terraces on residential projects. To find out more about this please visit our new website.

Require further advice?

Being a leading supplier of deck boards, we would welcome any queries around the subjects discussed above. If you are working on a project which requires decking with a fire rating, if you send over some details, we can offer an appropriate product or advise if a higher rated product needs to be used. If you haven't checked already, we recommend that in all cases before a product is used that it meets with the approval of your local building control or fire safety officer.

The Wood Protection Association (WPA) in partnership with LABC and the Wood Campus have developed an online CPD on fire safety and fire rated timber products. This is an easy to read overview and can be found on the this link Fire safety and fire rated timber products online CPD. This course has been developed for professionals working for Building Control, developers, specifiers and contractors.

If you are an architect or a specifier within an organisation and you would like to find out more about decking products in general, here at Gripsure we offer a CPD seminar which can be presented at your offices at a convenient time and date. The CPD covers common decking applications, the types of products on the market as well as specification considerations such as fire ratings, slip hazards, access to buildings and maintenance and installation.

For any further information on the contents of this blog, please do not hesitate to get in touch with Tom Anderson, Head of Sales UK & Ireland, by emailing tom@gripsure.co.uk or calling 07958 192097.
---