External TRV explained:

Contour's complete radiator systems come with high-quality Herz Thermostatic Radiator Valves (TRVs) for either internal or external fitting.

An external TRV kit is one where the remotes and the thermostat are remotely placed outside of the casing, allowing service users to adjust and control the temperature of the room themselves.

Contour offers two external TRV options. They are the External 9330-41 TRV kit and the new Anti-Ligature Back-to-Wall Shroud.

Benefits and Features:

A key benefit of the external TRV kit is its accuracy when gauging temperature. Having the TRV head outside of the cover is the most accurate way of measuring and controlling temperature, making it highly practical for day-to-day use.

The external TRV kit can be fitted with all radiator connections and pattern valves.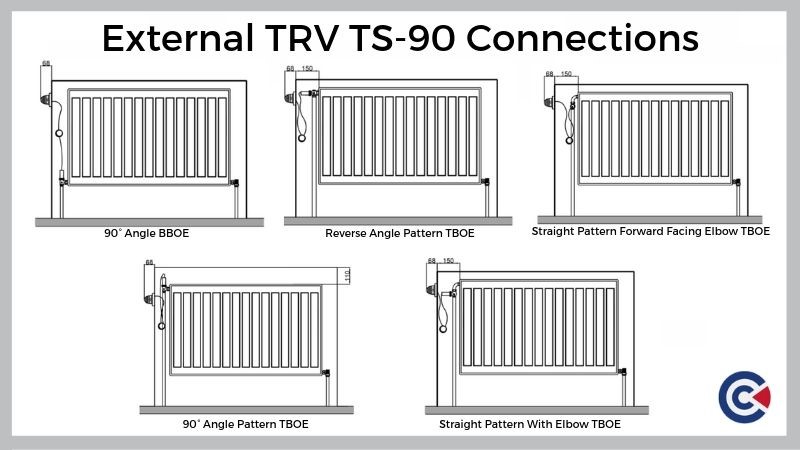 What are you options?

Contour offers the External 9330-41 TRV Kit and the Anti-Ligature Back-To-Wall Shroud 19352-41 Kit. Both enable accurate temperature gauging via the outside of the casing, making it a practical and efficient solution.

External 9330-41 TRV Kit

Due to the temperature adjustment option, the external TRV is regularly used and specified in places where users are less vulnerable, and vandalism is less likely.

Examples of suitable environments are:

• Patient bedrooms for long-term hospital accommodation
• Mainstream classroom settings where teaching staff can adjust the temperature for the comfort of the students. With radiator surface temperature not being able to exceed 43°c in schools and nurseries, there's a need for adults to control the temperature of radiators.

We would not recommend the external 9330-41 TRV kit to be used in mental health settings where high-risk service users could have access without supervision. With the remotes and the thermostat being fitted outside of the casing, there is a risk of damage due to vandalism and potentially misuse relating to self-harm.

Anti-ligature back to wall shroud 19352-41 kit

The new Anti-Ligature Back-to-Wall Shroud is an ideal external TRV option for mental health environments. Based on feedback, we have improved our design, providing a robust and safe solution.

The improved design minimises the risk of anyone from passing a cord around the back of the shroud, reducing the risk of self-harm or suicidal attempts.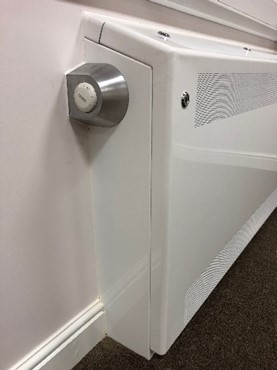 Upon installation, we secure the casing to the wall with a unique anti-pick mastic solution, minimising any gaps between cover and wall.

The Department of Health issued a document relating to the rights of patients in acute mental health units. It states that service users should have their own en-suite bedroom. They should have control over their lighting (including reading light), natural light (if integral blinds are fitted), ventilation and, where appropriate, heating.

Contour recognises that in most cases, it would be inappropriate to fit standard radiators and covers in service users' bedrooms due to the high-risk concerns associated with standard radiator fixtures and fittings. Inevitably, this would disable service users from controlling their heating.

Our new anti-ligature back to wall shroud is the perfect solution for giving service users the freedom and independence to control their heating, whilst providing safety to those most vulnerable.

Conclusion

With an extensive range of options, Contour's external TRV kits are an ideal solution for those who would benefit from controlling their own radiator surface temperature.

In providing day-to-day control of radiator surface temperature, it will allow people to go about their daily tasks in comfort. This, in turn, will boost productivity and wellbeing for those benefitting from it.

By allowing service users in mental health settings access to control the temperature in their rooms, you are complying with Department of Health standards and recommendations, as well as providing service users with freedom and independence.

---