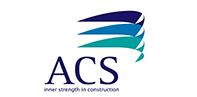 ACS Stainless Steel Fixings
ACS Stainless Steel Fixings are one of the largest and well established manufacturers of Structural Building Components in Europe. They have built up an enviable reputation for acting faster, working smarter, and exceeding all expectations.

ACS' ability to deliver is matched only by the exceptional quality of their products, their expertise and their highly competitive edge. ACS have spent over 30 years becoming the leading specialist in Structural Building Components. Their approach is never passive – they listen to what their clients say, assess and analyse their needs and develop innovative new ways of tackling those challenges – affordably, effectively and quickly.