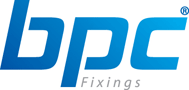 BPC Building Products Ltd
BPC Building Products is a manufacturer of a wide range of timber-fixing components and builders' metalwork. The company has been supplying the UK construction industry through a network of merchants and distributors since 1977, giving us over 35 years of industry experience.

BPC fixings are tried and tested, and are recognized throughout the industry as being trouble free and long lasting. Their quality systems meet the requirements of BS EN ISO 9001: 2000 ensuring the consistent quality of their products and services.