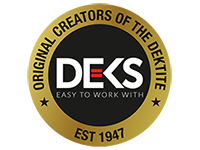 DEKS Industries Europe Limited
DEKS Industries Europe Limited was established in 2003 and distributes leading brands within the roofing, heating & plumbing industries.

They strive to provide high quality products with excellent customer service, making working with DEKS easy, enjoyable & rewarding.

In addition to the Dektite™ & Seldek range of roof flashings, DEKS is also the exclusive distributor for Selkirk® & Seldek twin wall chimneys.

They also supply a range of supporting components, making us a great choice for your flue & chimney supplies. Our other brands include FastFlash & Perform lead replacement product, BandFlex EPDM couplings, ValueFlex EPVC couplings & DekDrain channel drainage.