Barbour ABI have revealed the top 50 architects and clients for the month as well as the last 12 months. Their league tables report is compiled using a mix of survey data from some of UK's largest contractors as well as data from Barbour ABI's database of contracts, awarded in that month or a 12-month period.

This month, the total value of projects for architects reached a whopping £2.7 billion after a total of 92 projects. Currently, Bryden Wood Limited and Pick Everard sit at the top of the table with their involvement in the £254 million HMP Wellingborough. Assael Architecture Limited bag the third spot with a total of 130 million. This is followed by Stride Treglown Limited with 6 of their designs being rewarded to main contractors this month, at a total cost of £113 million. In addition to this, UMC Architects have moved up 35 places from last month with 3 awards totalling almost £70 million!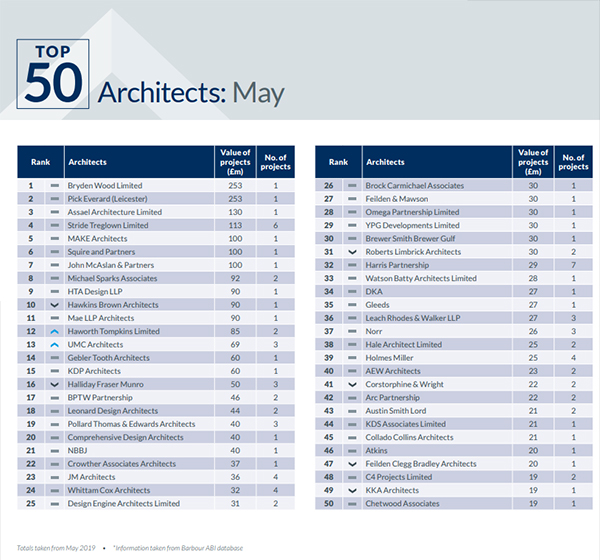 On a wider spectrum, the total value of Architects projects over the last 12 months totals to a huge £21.7 billion for 618 projects with AHR Building Consultancy Limited hitting £1,901 million worth of value for 36 projects. Taking the second-place spot was Nicholas Grimshaw & Partners Limited, with a value of £1,650 million for one project.

In terms of contractors for May 2019, Kier are at the top! 12 contracts were awarded with a total value of £397 million, with the construction of the new HM prison Wellingborough contributing £253 million and the Paisley Town Hall regeneration contributing £22 million to the total sum. Hill Partnerships and Ardmore Construction were in joint second place both gaining a total value of £154 million with less contracts awarded each at four and three projects.

Finally, it's congratulations to The Ministry of Justice who are at the top of the clients table in the UK for this month, thanks to the new HMP Wellingborough prison. The contract has a value of £255 million with a duration of 2 years. The Guinness took second place with their £130 million mixed development, Imperial 2, in Bow.

Read the full Barbour ABI blog here.

If you would like to view the full report for architects, contractors and clients, click here!

---