An eclectic, forward thinking crowd of 34,327 construction professionals attended UK Construction Week on 8-10 October. There was a particular swell in visitors keen to learn about future technologies and how they could be applied to their businesses.

The future of construction and how it is driving change was a major focus at this year's event and it was clearly a driver to bring the crowds to the show at the NEC in Birmingham.

Kevin Reeves, director of IoT & digital twin at Costain, said: "Being my first time at UK Construction Week, I was blown away by the scale and diversity of the event, it was very impressive."

Mark Ireland, chief engineer of technology strategy at the Manufacturing Technology Centre commented: "It was a busy few days and there were a great mix of attendees, from new industry entrants to managing directors and chief executives. It was really engaging to meet with the next generation and to meet people who aren't already entrenched in traditional attitudes around construction."

Feedback from a new business perspective was also extremely positive. Brendan Hourican, national sales and marketing manager at CircofloPro said:

"It was an incredible show. I came away with at least 60-70 excellent business leads. One project alone will pay for the cost of attending the show. It's been so successful, if I'd known I'd have gone for a larger stand and brought more of our team along."

Ade Feeney, divisional account manager at Tradepoint B&Q also commented on the levels of interest from younger attendees, saying: "We've had some great conversations. It was a good show, very busy, and we spoke to a lot of young professionals who are the future of the industry. They were really engaged."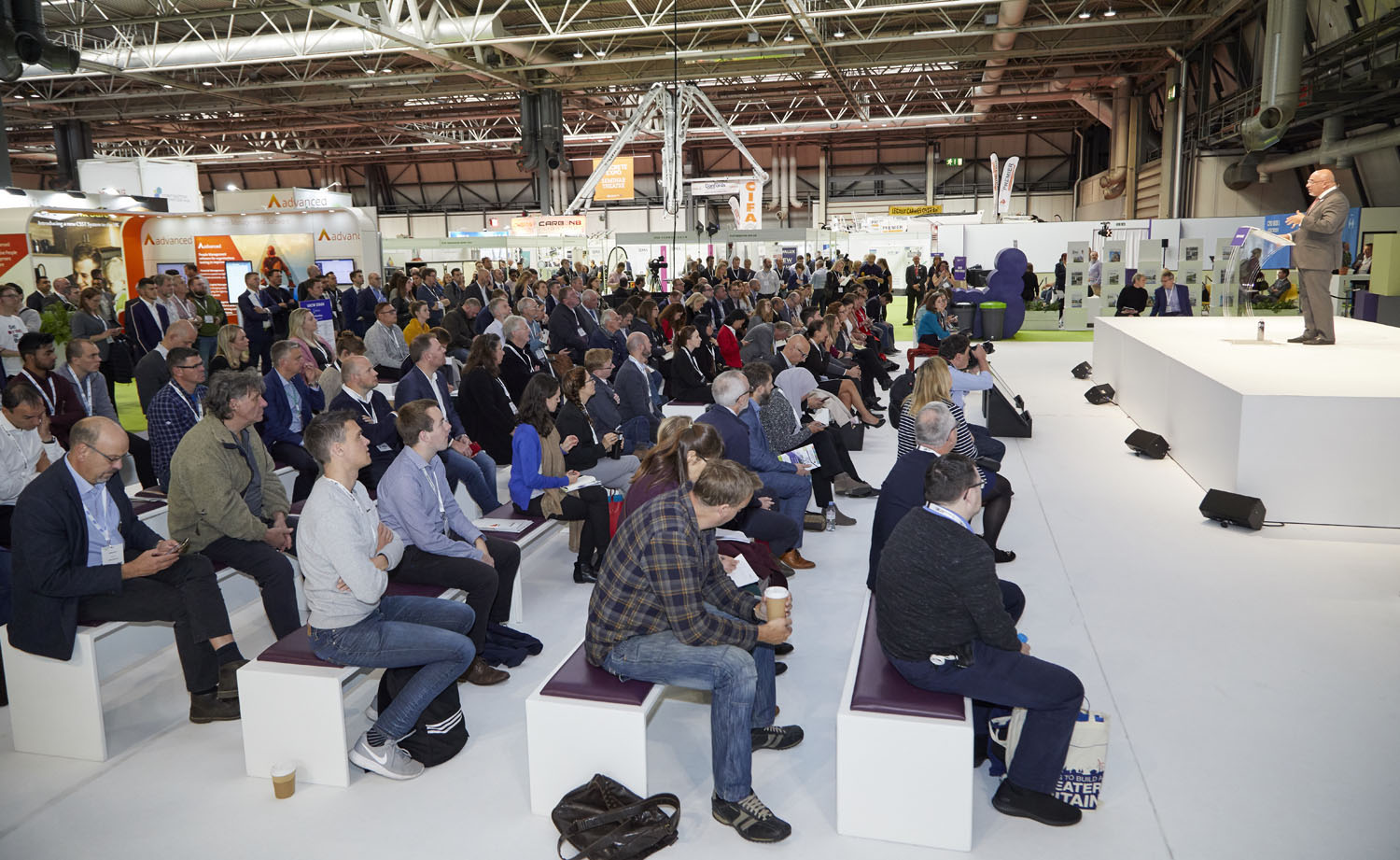 Delegates listening to speech from Nadhim Zahawi, MP on the UKCW Main Stage.

Among the 300 speakers and 150 hours of content, major highlights last week included the first industry appearance for the Construction Minister, Nadhim Zahawi MP, and keynote speeches and debates featuring Lord Digby Jones, architect George Clarke, modern methods of construction (MMC) advocate Mark Farmer and diversity champion Angela Dapper, principal at Grimshaw Architects.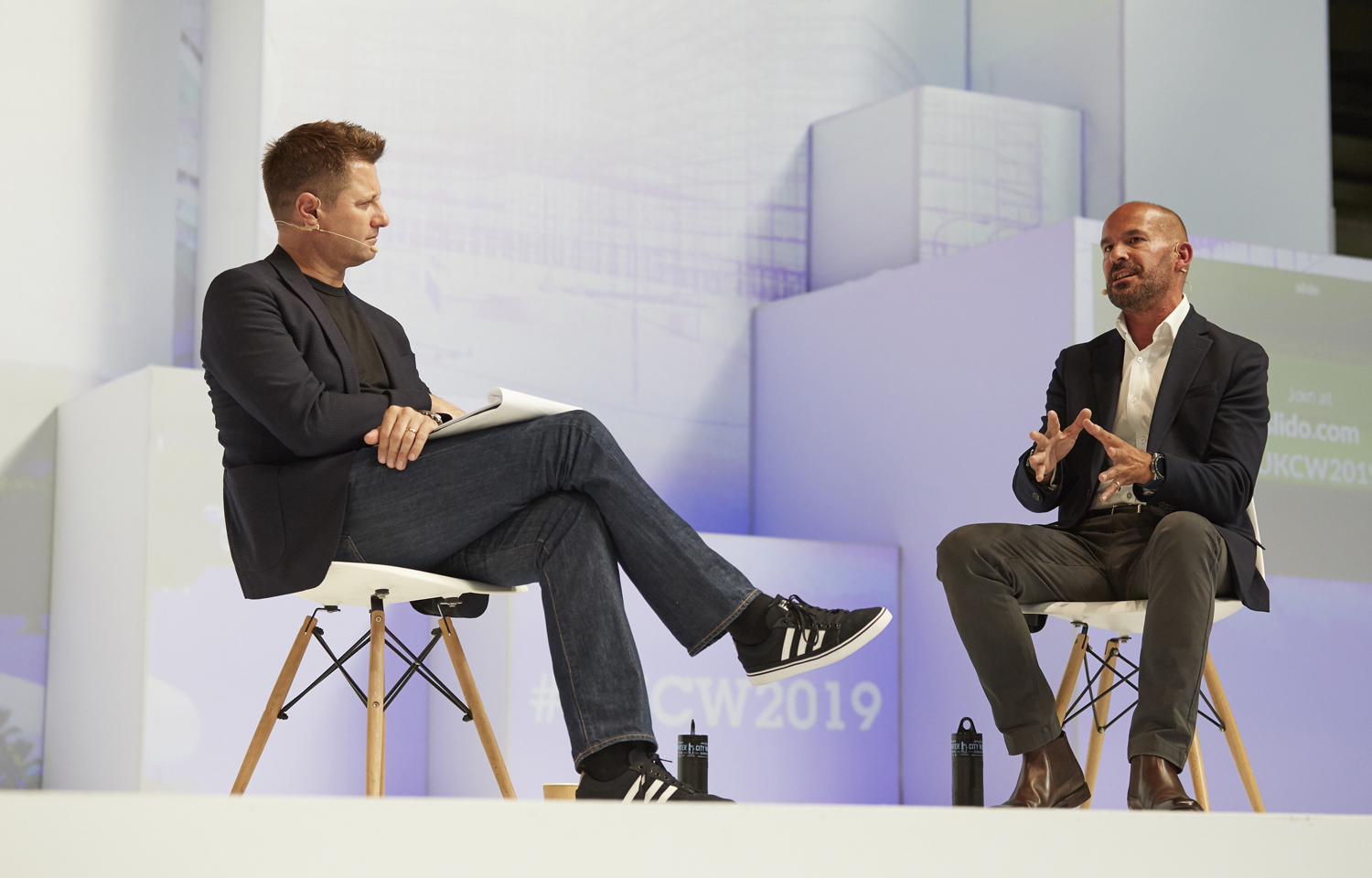 Discussion between Mark Farmer and George Clarke on the UKCW Main Stage.

Mental health in the industry was also a major focal point at the show, making UK Construction Week the largest event in the sector to address these issues. UK Construction Week worked alongside Public Health England to launch Every Mind Matters to the construction industry.

Sam Park, head of marketing at Aliaxis, said: "I was very impressed with the Every Mind Matters connection as I'm a mental health first aider at work. The focus on mental health at UK Construction Week was great. This is an audience which typically doesn't like to talk, and they should. There was a lot happening on the stands and the support which is available. Hats off to UK Construction Week, from a mental health first aider perspective this really helps get the message out."

UK Construction Week took innovation to a new level this year with its partnership with the Construction Innovation Hub (the Hub) and the new innovation zone. On a practical front there were a record number of product launches, showcases and demos providing something for all construction professionals regardless of trade. This was also the inaugural year for the co-launch of the very successful Concrete Expo.

Now in its second year, the UK Construction Week Role Model of the year award went to Anjali Pindoria, project surveyor at Avi Contracts. She is a passionate advocate for diversity and inclusion within construction.

Sustainability was a major push for the event with all exhibitors being encouraged to sign up to a 'net zero' agreement to boost awareness of the UK's carbon-cutting goals and encouraged to follow tips to boost their own sustainability. The printed show guide was switched for an environmentally friendly app, and to help reduce single-use plastic, free water fountains were installed around the show and free reusable bottles given out.

Summarising a very successful show, Nathan Garnett, event director said: "This year's UK Construction Week for me was brimming with positivity. In a time of political and economic uncertainty, the UK's largest showcase for the sector showed signs of transformation, as it adopts innovation at a faster pace than ever. The feeling all around was that we have a lot of work to do, come what may, so let's get on with doing it in the safest, fastest and most efficient way possible by harnessing the potential of new technologies.

"UK Construction Week 2019 also tackled mental health in the sector head on with the support of the Every Mind Matters campaign, as we continue the role of improving mental health in construction for good. I was delighted how open the construction industry has now become on this subject and great conversations have started.

"Finally, to see the talent and diversity on stage for our UK Construction Awards, Fix Radio Awards and Role Model 2019 presentation shows how far we have come in the fifth edition of the event. Although there is a mountain still to climb, as an industry we should all be proud of that transformation."

Looking to the future, UK Construction Week will be hosting a series of specialist summits in the New Year, including:



To find out more visit summits.ukconstructionweek.com.

The dates for next year's UK Construction Week are 6-8 October 2020.
---