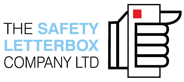 The Safety Letterbox Company
The Safety Letterbox Company Limited was founded in 1986 and is the UK's leading manufacturer and direct supplier of mailboxes and accessories. Clients include architects, developers, contractors, The Post Office, government buildings, and schools and colleges throughout the UK and Ireland.

Enquiries are handled efficiently and professionally, and quotes are issued within 48 hours, accompanied by AutoCAD drawings. All products follow a detailed process of planning and production, conforming to ISO 9001:2000 standards. The Safety Letterbox Company is also accredited with the Investors in People standard.